Göteborgs Ballongklubb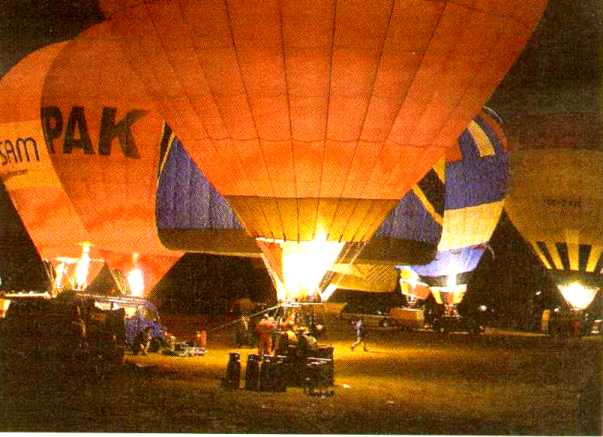 Photo courtesy of Barometern (Oskarshamns-Tidningen)
My balloon is the second from the right.
Join a balloon club
If you are interested in joining the club, please send an e-mail to .
Membership means that you get to help in the ground crew - hold a rope, carry things or drive the car & trailer two or three times - for each time you have the chance to fly. When you fly, you share the cost of the gas.
This is an equal opportunity club. The other pilot in the club (currently a trainee) is a woman.

We have some very pleasant dinner parties in winter, when we can't fly.


Shell Gas balloon game
click here
Put the cursor over the balloon to make it fly.

Balloons I have flown:
G-BVRR Lindstrand 77 (Demonstrator)
GE-ZVS (SE-ZVS) Colt 77 ("Rose/AGA/Primus")
GE-ZXO (SE-ZXO) Colt 56 ("City 107")
SE-ZDH Colt 69 A ("Göteborgs Posten")
SE-ZED Viking 105 ("SKD")
SE-ZEZ Viking 105 ("Triss")
SE-ZFI Cameron 90
SE-ZGN Lindstrand 76 ("Bingo-Lotto")

Photographs from the Bristol Balloon Fiesta, unfortunately I have not had time to set up an image map yet.
Information for balloon pilots: these are the documents you need to apply for British registration of your balloon:
CA1 application for Registration of Aircraft or Change of Ownership
Registration Information | Registration Forms and Fees